While looking for information about my Granddad in early lockdown (March/April 2020) in the Manchester area, this awoke my interests in those times, I thought it would be helpful to read more generally about how life was back then in Salford and surrounding areas of Manchester during that time, to help me find more information and understand exactly how they lived.
I stumbled by chance on two books by the author Robert Roberts (1905-1974).
The first of these listed here is a quite exceptional book called, "A Ragged Schooling"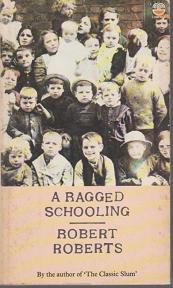 Robert Roberts grew up in the "slums" of Salford during that time. The back to back streets, a very poor area.
He was born in 1905 and lived for a long period in a corner shop, as in today's world, a type of Coronation street like scenario, where many streets would have a corner shop on them, where people bought food, coal, etc. by the measure.
(I'd heard about this before, our local market hall used to be an area sugar store during war times, where traders would purchase sacks, which would be measured out into jars and sold to paying public)
Robert goes into detail (in short bursts) regarding a whole host of subjects about his childhood during these Edwardian times.
Among the subjects he covers (with good humour and short recalls) are business, home life, his sister Janie, love, food of love (music), fire and food, low and no class, sins of the flesh, fears, ventures, superstitions, war, "Skool", class strugglers and more.
Robert manages to keep the interest and open eyes to lodgers, gossip, fights, fun, drinkers and ways of life in those times and conditions, in a way that doesn't talk them to death and doesn't impose his own beliefs upon the reader.
The one thing that surprised me about the book, was that many aspects of Robert's writings are similar and still prevalent in the world today.
It's easy to see how life has progressed (or not) and reflects on my own experiences in the early 1970s growing up.
Social structures, them and us mentality, etc. still remain today.
I'm about to start his first book, "The Classic Slum" next, I hope that it is half as enjoyable as this book has been.
If you are searching for relatives from the early 1900s, or after some insight into Edwardian life in England, this book is well worth a read!